About Youssef the Morocco Exotic Adventures company owner
My name is Youssef. I've been living in Morocco all my life, with my lovely family. People call me a tour guide, but I'd like to think I'm more then that. I take you on the voyage of discovery and wonder through magical places of Morocco – big cities, Sahara dessert, historic venues and many others. I arrange all so you can focus on why you came here and leave the mundane tasks to me. But it's not just a passive leisure time – it's an active participation that leaves you engaged, thrilled and totally immersed. I can show you what it means to stand next to a really bad smelling camel, but also what it's like to smell the morning breeze in the dessert. I can show you what it means to "take a stroll" through medina in Marakesh in the afternoon and what a quad bike can do with the sand dunes. I can show you Casablanca's city center and quite sunset that never seem to end at the shores of Atlantic Ocean… Marocco is my home, my every day reality and my kingdom. I know it in and out, I know its' secrets and I am happy to share them with you.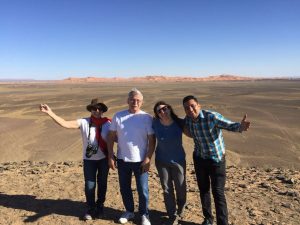 If only you embark on this journey with open mind and, more importantly, an open heart, then you must be ready to take on the consequences of your decision as Morocco is a mirror – it reflects your inner needs, what you secretly desire, your expectations for the world and yourself and finally who you truly are. Are you ready to find that out?
If so, then join me on the journey through scents of orange and ocean winds, through breathtaking views of limitless Atlas Mountains ranges, through silence and heat of the dessert, through unmistakable indigo color in all shades and finally through taste of 1 euro pomegranate that you can only buy from the farmer at his stand next to the road. Trust me, these things will stay with you forever…